Following a research project that investigated how decision makers choose high potentials and future leaders, here are some simple recommendations that will help you to advance your career.
You can find the full research report here and I'm also working on a book which expands on the research and adds additional information that will be valuable in supporting your career development.
We interviewed over 100 career decision makers in several global companies - hiring managers and leaders responsible for nominating high potentials to talent programs. We then surveyed over 300 managers from across a wide range of industries and countries. What we consistently found was that there is no common set of expectations for a future leader, but there is a common pattern of behaviour in identifying one.
What this means is that there are no universal 'leadership traits' that you can develop. Instead, each decision maker had their own idea about what qualities they look for in a future leader. The surprise is that those are the exact same qualities that they see in themselves. Therefore, if you want to influence the decision maker and demonstrate the right traits to be recognised and promoted, you have to find out the unique set of traits that the decision maker is looking for, and that's the same set of traits that they see in themselves.
Here's the list of traits, and their order of importance as determined by the survey of over 300 managers: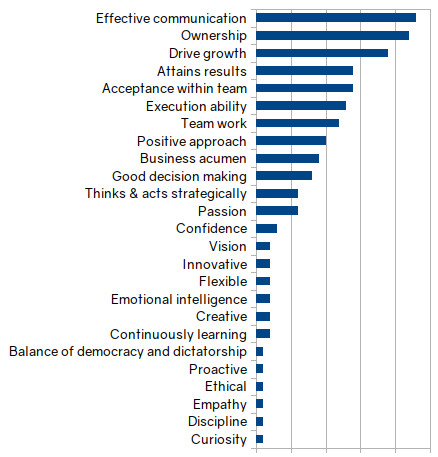 To find out the traits that a particular decision maker values in themselves and is therefore looking for in others, you can ask a very simple question: "What is the secret of your own success?"
Whatever you hear in response to that question is what the decision maker is looking for in the next generation of future leaders.
If you have absolutely no access to the decision maker then you might use this list to guess at the most important qualities, however if you have not been working on your network then you are unlikely to be successful, simply because you cannot differentiate yourself from other candidates, and on paper, it looks like everyone is a good candidate for a role.
If you focus on performing your current role KPIs, or even exceeding them, then you are largely wasting your time. Everyone is performing well, and since everyone is measured in the same way, it's impossible to tell the difference between them. You really do have to concentrate on building your network. Talk about your career aspirations and ask for help, and remember that the most important question in networking comes at the end of the conversation: "Who else can you introduce me to?"