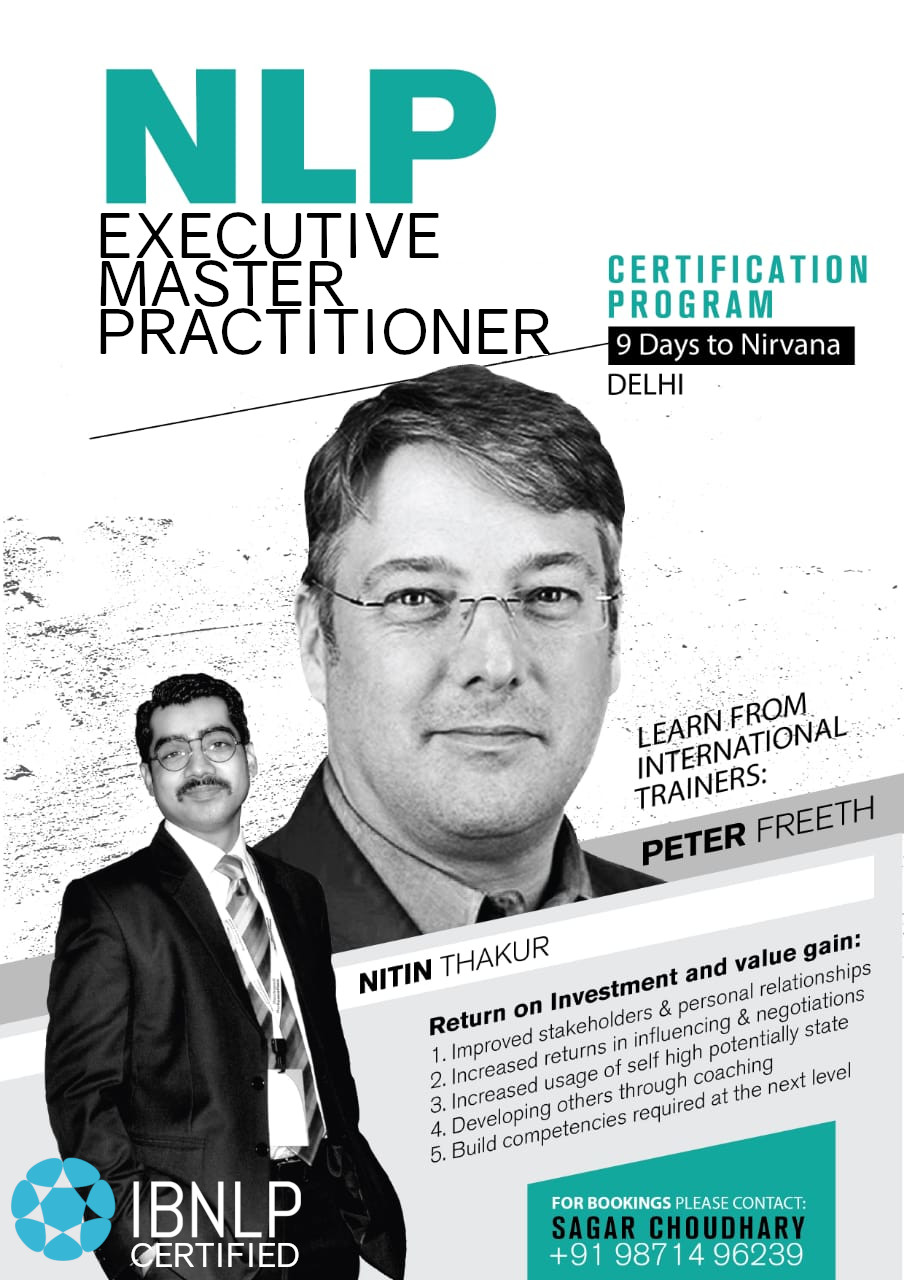 This IBNLP certified NLP Business Master Practitioner course runs as a single 9 day block in Delhi, India
December 7 - 15 2019
The cost is just INR70000 for the full Business Master Practitioner training, including IBNLP certification.
Reserve your place by calling Sagar Chouhary on +91 98714 96239
This IBNLP certified NLP Business Master Practitioner Training is run by Peter Freeth, one of only 9 SNLP Master Trainers in the world.
In this NLP Business Master Practitioner training, you won't learn any techniques. You will learn how to decode the hidden patterns through which we create our own reality. You will learn how to influence those patterns, literally creating new realities for your clients and colleagues - new realities which create tangible, measurable change. You will be free of techniques, and instead you will create experiences which generate change.
In this training, you will discover the internal patterns and programs which run your life, and you will have the opportunity to change them. If you ever find yourself thinking, "I've been here before", or asking yourself, "Why does my life go round in circles?" or "Why do I never get the results I really want?" then this unique training contains the answers. You have spent a lifetime learning and reinforcing these patterns, and you can change them very easily once you learn how to decode them from your language and behaviour.
The focus of the 9 days is on modelling, so you will learn Meta Model inside out, and you'll be able to decode everything that you need to know from the client's very first statement to you, and you'll be able to create totally unique, custom coaching interventions based on that analysis. You'll also be able to decode skills and talents, and replicate them either for yourself or by teaching them to others.
This is unlikely to be anything like the modelling you've seen before. There is no copying of movements, no 'deep rapport', this is based on the analysis of the structure of language and behaviour, as you will find in Bandler & Grinder's seminal 'Structure of Magic' volumes 1 & 2.
If you've seen Master Practitioner training that teaches you 'advanced techniques' then understand that techniques, no matter how 'advanced' are by definition at Practitioner level. As a Master Practitioner, you must leave techniques behind and focus only and uniquely on the person who is in front of you, right now. At Practitioner level, techniques are an easy gateway to the principles; scripts or props that help you while you're learning how to use NLP. At Master Practitioner level, we create our own techniques, and for different reasons which might surprise you.
Most of all, you will learn how to perform. Coaching, leadership, training, managing, selling - all of these are based on relationships, and when you create the relationship which drives results, the results are easy.
This NLP Master Practitioner training will take you to the roots of NLP, at a deeper level than you thought possible, and will enable you to integrate NLP into your work in a way that you had never imagined.
Simulation Theory of Mind Reading
Outcomes for this course
Models
Surface v deep structure
Rituals and Incantations
Eye Accessing
Stimulus Response
Anchoring
TOTE
Strategies
Meta Model course goals
Meta Model - in depth
Strategies
Rules, Beliefs, Strategies
Custom interventions
Complex strategies
Misdirection and discomfort
Outcome as direction
Testing and comparisons
Conversational change
Custom interventions
Performance
Presenting information
Rapport
Congruence
Incongruence
Modelling
Testing
Group mind modelling
Distillation
Installation
Custom technique design
Meta Model Practice
Briefing
Certification criteria
Assessment sessions
Speaking about my recent NLP Master Practitioner training in Birmingham, Abbie says, "Peter's Master Practitioner training was unlike the trainings I have experienced before. It was a small group environment which was a perfect context for conversation and questioning of what was being discussed, and lead me to personally understand and integrate the NLP skills on a deeper level. I found Peter's style of training very relaxing, without any pressure of performance which again enabled me to quickly develop my skills and coaching effectively. I experienced several personal revelations and now have the skills to create a context where my clients are able to have their own revelations on their journey of change."