The Unsticker is an amazing creative problem solving tool. Take even the stickiest, most challenging problem, ask yourself random questions from the book and, after just 4 or 5 questions, BANG! and the problem's gone!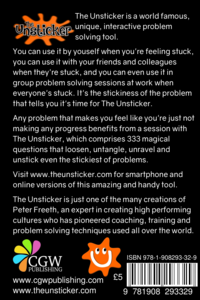 The Unsticker is a world famous, unique, interactive problem solving tool.
You can use it by youself when you're feeling stuck, you can use it with your friends and colleagues when they're stuck, and you can even use it in group problem solving sessions at work when everyone's stuck. It's the stickiness of the problem that tells you it's time for The Unsticker.
Any problem that makes you feel like you're just not making any progress benefits from a session with The Unsticker, which comprises over 300 questions that loosen, untangle, unravel and unstick even the stickiest of problems.
Visit www.theunsticker.com for smartphone and online versions of this amazing and handy tool.
The Unsticker is just one of the many creations of Peter Freeth, an expert in creating high performing cultures who has pioneered a number of coaching, training and problem solving techniques now used by professionals all over the world.
Visit The Unsticker at www.theunsticker.com