Learn the simple secrets to creating a sustainable coaching practice from Master Coach Peter Freeth.
ISBN 978-1-908293-56-5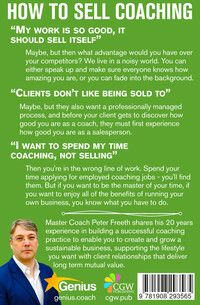 Buy me from Amazon UK
"MY WORK IS SO GOOD, IT SHOULD SELL ITSELF"
Maybe, but then what advantage would you have over your competitors? We live in a noisy world. You can either speak up and make sure everyone knows how amazing you are, or you can fade into the background.

"CLIENTS DON'T LIKE BEING SOLD TO"

Maybe, but they also want a professionally managed process, and before your client gets to discover how good you are as a coach, they must first experience how good you are as a salesperson.

"I WANT TO SPEND MY TIME COACHING, NOT SELLING"

Then you're in the wrong line of work. Spend your time applying for employed coaching jobs - you'll find them. But if you want to be the master of your time, if you want to enjoy all of the benefits of running your own business, you know what you have to do.

Master Coach Peter Freeth shares his 20 years experience in building a successful coaching practice to enable you to create and grow a sustainable business, supporting the lifestyle you want with client relationships that deliver long term mutual value.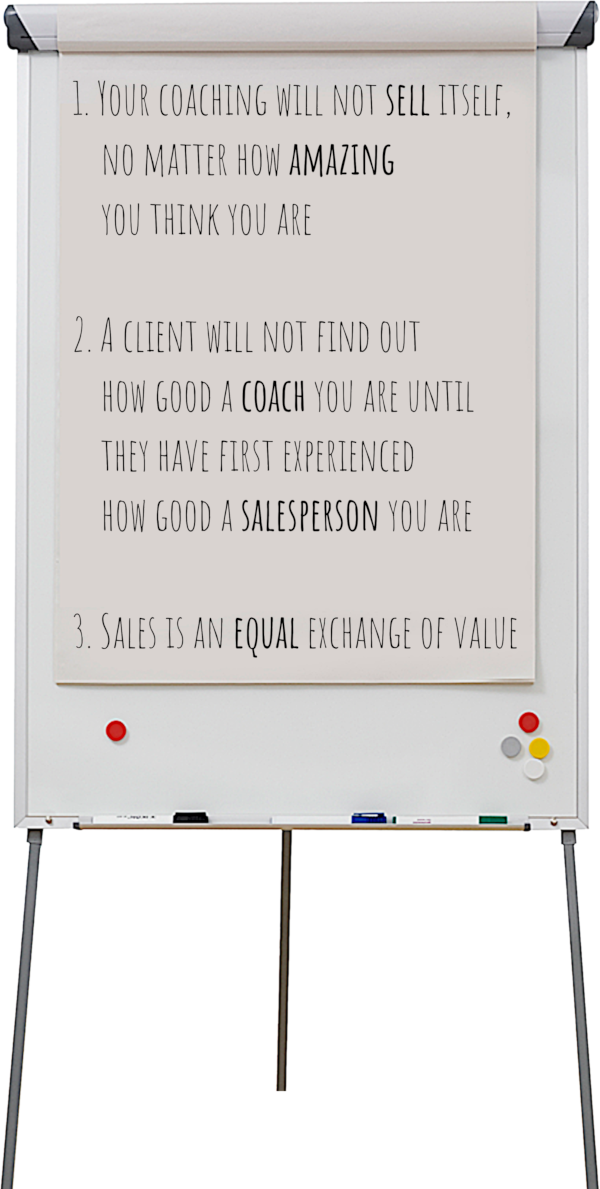 Peter Freeth is a talent and leadership coach, author, speaker and innovator of some of the world's most exciting coaching tools.
Amazon reader

I'm only one hundred pages into this book but already I don't want to put it down. I've never said that about Sales books before because they're often so full of hype and fake guarantees of success... as long as you follow the author's unique model, of course. They really put me off.
But this book is different - it's tailored to a) selling a service and b) selling coaching - not many sales books do both of those. There's also no unique 'must-follow' model, just tonnes and tonnes of sensible thinking which de-mystifies selling coaching and makes it do-able for anyone, especially if you're like me and you don't find it the easiest thing to do. It's helped me recognise my fear of sales and move beyond it. I'm now focused on how I value my time and how to use it most effectively. Magic!

Francois Coetzee



A wonderful little book which explains sales in simple terms and motivates you to jump in and create more business and success!
The Author clarifies a simple, yet powerful, sales process and explains to the novice exactly what is needed every step along the way.
You can watch a webinar recording here where Peter shares his secrets for sales success with coaches.